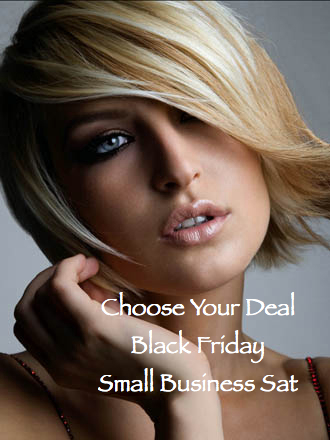 Chose Your Deal On Black Friday And Small Business Saturday
With Dona Or Christina
1. Haircut with Complimentary Powerdose Treatment-
  Your hair will be deeply hydrated and cut to perfection.
2. Keratin Treatment with Complimentary Dry Haircut-
  After your locks are smoothed out and de-frizzed your tamed tresses will be
  shaped, trimmed or dusted to your liking.
3. Single Process Color and A Haircut. receive 20% off Highlights-
  Book your appointment on Black Friday or Small Business Sat.
4. As a 'V.I.P.' Guest take advantage of one of our "Choose Your Deal Specials" and receive a coupon for 10% off your next visit.
5. On Black Friday and Small Business Saturday take 20% off all your retail purchases.
6. Enter a chance to win our N4 LOVE BOX give away, A full box of N4 Luxury hair products, full size hydrating shampoo and conditioner, our Rituals fave blowdry lotion, mighty hair spray and super comb and prep, a great way to experience N4, Our NUMBER ONE!. Go to our facebook page and like us to enter a chance to win our LOVE BOX.
[ Visit FrenchRituals.com ]