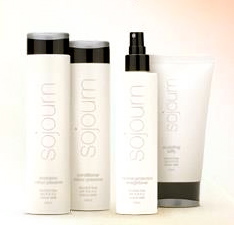 Put The Lime In The Coconut
and drink it all up...
We are drinking this stuff! We can't keep it in the Salon these days. When I looked up the main ingredient in our latest new hair product, unlike the drink my sisters and I enjoyed while vacationing in Maine this summer. "Put the Lime in the Coconut"
Buriti Extract is a "silicone replacement" an organic fruit found in the Amazon Rainforest rich in omega-6 used to promote hair nutrition, softness and shine, revitalizing color-treated hair. We are in love with the natural coconut fragrance, in our new Sojourn Thermal Protection Spray!
The low ph of 4.5-5.5 in the Shampoo and Conditioners, slams the cuticle closed and the Themal Protection Spray protects the hair to a super smooth, healthy, weightless look from roots to tip.
*Use before hot tools, such as blow dryers, flat irons, curling irons, and hot rollers.
Dona French, Rituals Salon Doylestown Pa
[ Visit FrenchRituals.com ]